Wearable Devices: The Next Frontier in Enterprise Mobility?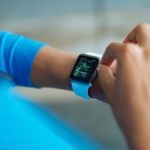 Wearables are making a smashing comeback. They are sleeker, they are nicer, and they are a lot better than before. Industry studies provide supporting statistics. The wearables market is projected to reach the $150 billion mark by 2026. The reason for their increasing popularity is the terrific convenience. The growing momentum of adoption of wearable technology will push enterprises to integrate it into their business applications. The smart offices of today want to provide their employees convenience and the ability to work from anywhere.
Unlike other devices like smartphones, tablets or laptops, wearables are lighter to carry and are instrumental in collecting a wealth of real-time data without any inputs from the users. For this reason, organizations committed to enterprise mobility consider wearable devices as the next step in their corporate mobility strategy. Here is how wearable devices are proving to be the next frontier in enterprise mobility.
Creating Safer Workplaces
Wearable devices allow the organization to communicate better, whether it is between employees within the office, on-site with the clients, or on the field at a job. Their importance and usefulness cannot be boiled down to quick hands-free communication, it is more advanced than that. Wearable devices come loaded with sensors like barometers, pulse monitors, accelerometers, altimeters, and more. All these sensors collect and share data automatically with the data center. The employees do not have to actively communicate this data back to the office. Such functionality can be vital for business.
Data received from wearables in the transportation industry can help logistics companies to identify more efficient routes. On construction sites, it can help generate alerts for the crew to check on a fellow worker. In the energy and mining sectors, where the employees work in harsh environments, wearables can enhance the safety at the site of work.
Pushing Employee Efficiency Further
Wearable technology injects organization-wide efficiency. Using a mobile device requires the employee to log in the password, reach the app, and then enter the required data. This takes them around 20-30 seconds and they repeat this gesture more than 150 times a day. Wearables infuse a tremendous degree of efficiency into the workflows. Wearables can sense movements and open a certain app, collect data by location or context, and perform many more functions automatically, thereby reducing the time required for each step and replacing it with a micro-interaction.
Boeing has emerged as one of the early adopters of wearable technology. The company started using head-up displays, although not a true wearable, it helps pilots access important information without looking down at a manual. It used the same wearables in its manufacturing division to help its workers eliminate the need for them to flip through thick manuals.
In 2002, an asbestos-removal company, OHS, provided its surveyors with belt-mounted smart devices that carried blueprints of buildings. These devices also assisted the engineers in navigating the rooms and in the identification of the problem areas quickly. This step enabled the company to inspect 25% more sites and each surveyor ended up saving a whopping 480 man-hours annually. The devices also enabled the surveyors to report their findings in real-time, reducing the time required to write a client report by half.
Smarter and Better Customer Service
Wearable technology, as part of the enterprise mobility strategy, not only encourages flexibility, but can actually work with the employee to provide better service to the customers. Enterprise applications that can be used on smartphones can easily be transferred to a wearable device such as a smartwatch. This can help employees respond more promptly to reminders, appointments, emails, and more. Wearables can also be used to communicate with the employees while they are on the run or communicate with them undetected while they are with customers. A good example is the 2014 customer service experiment run by Virgin Atlantic Airlines.
The airline asked its customer service representatives to wear Sony smartwatches and Google glasses to capture customer data in real time. This allowed the representatives to check in their premium customers as soon as they arrived, greeted them by name, provided them all the latest information about their flight and even the weather update at their destination. The employees were able to offer such high degree of personalized service because of the wearable gadgets and the company reported the exercise to be a raging success.
The Obvious Next Step
The objective of every enterprise mobility solution is to provide the employees with all the tools they need to do their jobs anywhere and anytime. Wearable technology is the new frontier in this constant endeavor because it enables employees to accomplish those objectives more efficiently and quickly. Just like smartphones, as more and more people use wearable technology in their daily lives, they will demand to use them in their work environment as well. For enterprises, leveraging such a ubiquitous technology is the obvious next step.